𝐀𝐋𝐎𝐄 𝐕𝐄𝐑𝐀 𝗚𝗼𝗼𝗱𝗻𝗲𝘀𝘀 𝗼𝗳 𝗻𝗮𝘁𝘂𝗿𝗲 𝗶𝗻 𝗼𝗻𝗲 𝗯𝗼𝘁𝘁𝗹𝗲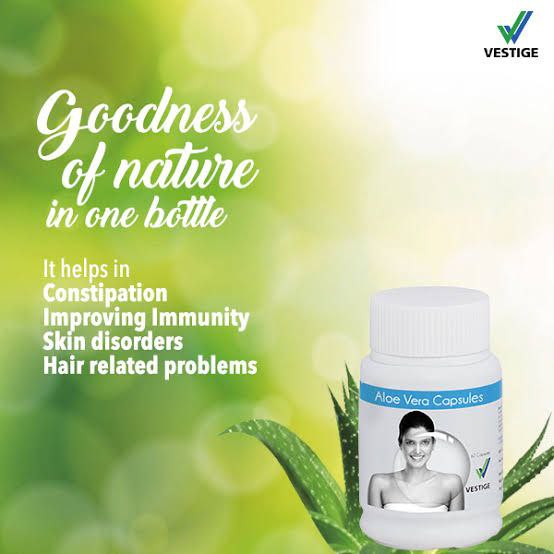 Aloe Vera is a plant that has proven rejuvenating, healing and soothing properties. Vestige Aloe Vera contains more than 20 amino acids and vital minerals such as Calcium, Magnesium and Sodium to meet your daily requirements. It also contains enzymes, vitamins, polysaccharides, nitrogen and other components, which truly make Vestige Aloe Vera a miracle product.
Aloe Vera is cooling and soothing and acts as a demulcent to the digestive system ~ useful in case of constipation, acidity, liver weakness and dyspepsia. It also helps treat skin disorders and is apt for all hair related problems.
Benefits of Using Aloe Vera On Face
Removes tan and dullness.
Removed dark circles and dryness under the eyes.
Heals sun burns and soothes the skin.
Removes acne and blemishes.
Removes the early sign of ageing.
Natural moisturizer for oily skin.
Helps in constipation.
Improves Immunity.
Helps in hair related problems.
Read More: Link 1 | Link 2 | Link 3 | Link 4